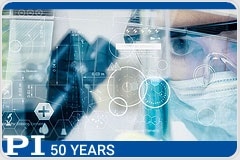 Piezo Transducers, Microrobots, Nanopositioning Systems
PI provides ultrasonic transducers, high speed actuators, laser beam steering systems and high precision motion control stages for innovative diagnostics, therapeutics, surgery and ultra-high resolution microscopy.

Hexapod systems support surgical robots, piezoelectric transducers / motors improve in vitro diagnostics, endoscopy, eye surgery. Nano-Focus systems speed up genome research with higher throughput and precision.