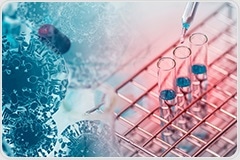 mRNA Vaccine Development with UV-Vis spectroscopy
mRNA vaccine methodologies have many advantages over traditional vaccine workflows. Primarily, they elicit a potent immune response, have a much shorter development cycle, and cost less to manufacture. Development of mRNA vaccines requires highly purified nucleic acid components to ensure efficient production.

In this session, the speaker will look at the steps involved in the mRNA vaccine development and production process and highlight how UV-Vis spectroscopy is an important QA/QC tool in these workflows.