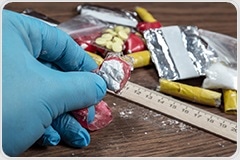 The Role of XRD in Modern Forensic Materials
The increasing availability, consumption and ongoing development of illegal drugs has seen their analysis become a key element of contemporary forensic science. In order to trace drugs' source, their type, form and composition must be accurately determined.

XRD (X-ray diffraction) analyses are a critical step in the analytical workflow of many forensic labs working with a range of powder and bulk samples, for example, drug-related samples and various other samples, including soils or textiles.