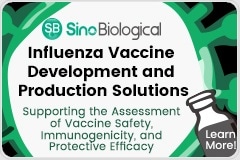 Influenza vaccine development and production solutions
Sino Biological offers comprehensive solutions for influenza vaccine development and production. Sino Biological provides a wide range of influenza virus research reagents, such as antigens, antibody pairs, and neutralizing antibodies.

Moreover, Sino Biological provides antibody development and recombinant protein expression services with expertise in high throughput expression and large-scale production.