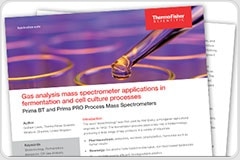 Elevate Your Processes: Mass Spectrometry for Fermentation
Discover the power of real-time fermentation process tracking with the latest application note.
Thermo Scientific™ Prima Process Mass Spectrometer offers fast, non-invasive analysis of respiratory gases, providing crucial insights into culture physiology, growth kinetics, and substrate consumption. With cutting-edge technology and 21 CFR Part 11 compliant software, it's time to elevate your processes.

Download now to learn more and optimize your fermentation!