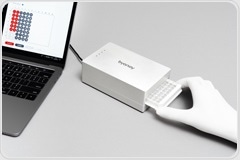 How Miniaturization is Improving Laboratory Workflows
Compactness is a well-known trend that has been present for many years in consumer goods and in laboratory equipment. Compact instruments are changing the laboratory landscape through the flexibility inherent in their footprint.

Absorbance 96, the compact microplate reader, has been used in a traditional benchtop setting but has also been implemented in space-restricted areas such as incubators or anaerobic chambers. Whatever (and wherever) the application may be, you will have your own small, portable, decentralized, intuitive microplate reader to assist.